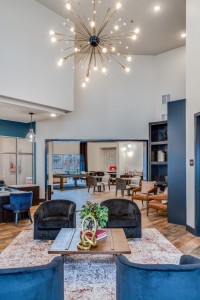 "Re-imagine RedBird!" – Affordable Luxury Apartments Available for Move-In Spring 2021. Introducing Palladium RedBird; the residential apartment community currently under construction in the historic redevelopment of RedBird Mall.  An ideal combination of  affordability, location, amenities, and upscale finishes all within walking distance to shopping, dining, and community events.
Palladium RedBird pricing will appeal to a wide range of residents with varying incomes. If you have questions about Palladium Redbird and our affordable housing program, please visit www.palladiumredbird.com and click the "Sign Me Up" button above for updates.
Connect. Shop. Work. Live. Stay.
Palladium RedBird
7202 S. Westmoreland Road
Dallas, TX 75237
Phone: (972) 685-4121
Email: Live@PalladiumRedBird.com
Website: www.PalladiumRedBird.com
DATA:
Partner: The City of Dallas
Architects: HEDK Architects
Land Surface: 6.2728 acres (2.54 hectares)
Data: 300 units, 374,684 sf (34.809 sqm of gross building surface (slp)
AMENITIES:
INTERIOR
Designer Appliance Package
Wood-Style Flooring
Granite Counters
Full Size Washer/Dryer Connections
Entry Closet
Private Balcony/Patio with Storage
Ceiling Fans
Kitchen Pantries
Linen Closets
Dual Pane Windows
Built-In Microwaves
Self-Cleaning Ovens
Spacious Walk-in Closets with Built in Shoe Racks
Upgraded Lighting
Kitchen Island
EXTERIOR:
Controlled Access Structured Parking Garage
Swimming Pool
Playground
Spacious Clubhouse with Coffee-Bar
Conference Room
Computer Center
Fenced Pet Park
Fitness Center
Kids Playroom
Gazebo Covered Grilling Stations
Bicycle Storage
Horseshoe Pit
Palladium RedBird
7502 S. Westmoreland Rd., Dallas, TX 75237
Website: www.palladiumredbird.com